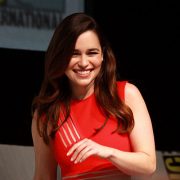 Hollywood, politics and the fashion industry all have one thing in common. Wigs have been used in all three for centuries. Today's wigs are so finely crafted that without someone telling you, it is down right impossible to tell whether a person is wearing a wig or if their hair is their own natural-growing hair.
Who Wears Wigs
For many it might not come as a surprise that actors and actresses both in movies and on the red carpet wear wigs. Angelina Jolie, Nicolas Cage, Beyoncé, John Travolta, Javier Bardem and Rihanna wear wigs to give their hair a more full luck or to hide receding hairlines. Many of these stars have even been open about their hair in interviews. But, then there are those actors and actresses you might not expect that wear wigs. Some of them including "The View" co-host Sherri Shepherd, Julianna Margulies of "The Good Wife," Robert Pattinson of the "Twilight" series; Emilia Clarke who plays Daenerys Targaryen on "Game of Thrones," as well as Anne Hathaway and Emma Stone.
Actually, They Are for You!
Because many of us remember our grand-mothers wearing wigs that where bulky, moved around and didn't look all that natural, we assume that wigs aren't appropriate for everyday life. Nothing can be farther from the truth whether you are a celebrity, politician, school teacher, or sales person.
There are four things a wig can do that no stylist, coloring, cream or gel can.
Non-Destructive: Human hair wigs are popular in Hollywood because that don't damage your existing hair. If you change your hairstyle every few weeks, that can damage your hair which can take months or years to fully repair from.
Natural Look: The art of wig making has produced exceptional products for centuries. In recent decades, technology has made it possible to not only make wigs look natural, but better than natural. No longer is there a concern that a wig from a respectable manufacturer might appear artificial.
Time Savers: Even a temporary hairstyle that isn't destructive can take a considerable amount of time to get right. A person can prepare for formal occasions and/or events that call for something special in a matter of minutes, not hours.
Hide Deficiencies: Many people, both men and women alike, are not blessed with perfect hair. Hair may be thin or unhealthy, receding, patchy or gone altogether. Some have hair that has grayed prematurely or isn't maturing uniformly. And, most of the time it isn't a big deal. But for anyone on those special occasions who wants their hair to match the way they feel about themselves, a wig can do that easily.
https://www.bostonwigs.com/wp-content/uploads/2018/01/Emilia-Clarke-celebrity-human-hair-wigs.jpg
500
500
sylvia
https://www.bostonwigs.com/wp-content/uploads/2017/09/North-Shore-Wigs-by-Sylvia-Saugus-Mass.png
sylvia
2018-01-25 10:05:09
2018-01-25 10:05:54
Four Great Reasons We Love Wigs