Sylvia Caruso – Advocate 2017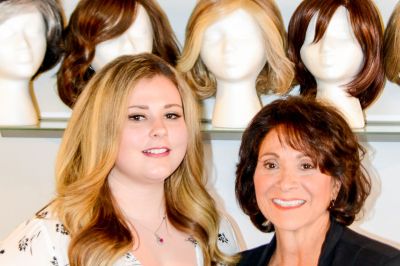 A cancer patient who walks into Sylvia Caruso's salon comes out a changed person, transformed by her skill, compassion and determination to bring joy back into life.
It all began one day when Sheila Bebchick and her husband, Les, were driving down Route 1 in Saugus. They saw a sign for Sylvia Caruso's Hair Studio and Wig Salon and decided to give it a try. A stage IV metastatic breast cancer patient, Sheila had tried four different wigs over the 10 years of her treatment, yet none of them made her feel like herself. That all changed when she met Sylvia and her colleague Angelica Gentile.
"She immediately engages each client as if she was a magical wizard who will transform their appearance," says Les. "Sylvia goes out of her way to make each person feel special."
A breast cancer survivor herself, Sylvia understands the profound impact that hair loss has on a woman's self-worth, confidence and happiness. Les remembers the first meeting they had with Sylvia. "We showed her several pictures of the old Sheila. Her eyes lit up, she almost jumped for joy, and said, 'If you want the old Sheila back, that's exactly what we are going to do for you.'"
Originally a hairdresser by trade, Sylvia saw the vital need to help men and women with hair replacement, and devoted her career to this mission. But it's more than a career. Says Les, "People leave the salon with a smile on their face and a sense of happiness, knowing that they have found a person who cares about their happiness–and not just another sale."
https://www.bostonwigs.com/wp-content/uploads/2017/09/North-Shore-Wigs-by-Sylvia-Saugus-Mass.png
0
0
sylvia
https://www.bostonwigs.com/wp-content/uploads/2017/09/North-Shore-Wigs-by-Sylvia-Saugus-Mass.png
sylvia
2017-05-30 11:29:52
2017-05-30 11:32:21
Sylvia Caruso – Advocate 2017