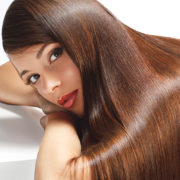 The thought of wearing someone hair on your head might seem a little strange, but for millions of men and women around the world, it's just a natural part of life they wouldn't have any other way. Human hair wigs and hair extensions have become so commonplace and in many cases necessary, that we don't think about where exactly the hair comes from or how it ends up on our head. We wanted to share with you some of the fascinating facts about human hair and why it is used in custom wigs and hair extensions.
A Multi-Billion Dollar Industry
While you may not think about it, the human hair industry is very lucrative. There's money to be made in just about every stage: from those who sell their hair, to those who clean it, sort it and create beautiful wigs from it. Human hair has become so valuable that some salons have even been burglarized for it. In India, one of the main sources of human hair is often referred to as 'black gold'.
The Biggest Sources of Human Hair
Have you ever wondered where the hair comes from that is used in wigs and hair extensions? Mainly it comes from two of the most populated countries in the world, India and China. In these countries shaving one's head is viewed as a traditional religious practice. In pilgrimages to temples like the Venkateswara Temple in Tirumala, India, there are hundreds of barbers available to shave a different person's head every five minutes. Just think how much hair that is.
There's Hair in Your Pizza
In recent years the need for human hair has increased dramatically along with the use of human hair. Not only is it used for just wigs and hair extensions but it is also used for fake eye-lashes, fertilizers, stuffing and it can even be found in your pizza. While this probably sounds unappetizing, it's actually just the amino acids produced from human hair that is often added to dough of bagels and pizza.
Iconic Wigs and Wig Owners
Fans of the Kardashians & Jenners know that Kylie Jenner is a big fan of human hair wigs. So much so, that she has had celebrity wig-maker Tokyo Stylez make her several different styles wigs. Some recent icons that also owned wigs would include Michael Jackson and the famed painter Andy Warhol, whose own wig sold for a hefty $10,800. Long before the Jenners and other celebrities, there were royals that owned wigs that have become icons themselves. Queen Elizabeth had more than 150 wigs, and King Louis XIV had over 40 wig makers.
It Takes a Lot to Make a Wig
The amount of time it takes to create a wig is tremendous. It can take several days just to make one individual wig. That's because the process involves untangling, sorting, washing, drying, dyeing and the sewing of these strands of hair. Some fully custom wigs can take up to eight weeks to complete. If you are looking for a wig or hair extensions, don't worry about having to wait that long. The Hair Studio and Wigs Salon offers human hair wigs for that will instantly give you a full head of beautiful, natural-looking hair. Call us today at (781) 233-9787 for an absolutely free private consultation with
https://www.bostonwigs.com/wp-content/uploads/2018/08/custom-wigs-hair-extensions.jpg
500
700
sylvia
https://www.bostonwigs.com/wp-content/uploads/2017/09/North-Shore-Wigs-by-Sylvia-Saugus-Mass.png
sylvia
2018-08-10 11:34:44
2018-08-10 11:34:44
Insane Details about Human Hair Wigs & Extensions