Men's Hair Replacement Boston
Hair Restoration & Hair Replacement for Men – Boston North Shore Hair Loss Solutions
Non-Surgical Hair Replacement Systems for Men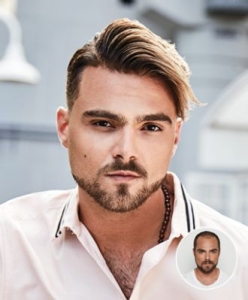 Our non-surgical customized hair replacement systems for men are made from 100% real human hair and our hair systems are undetectable to both sight and touch. Now you can restore your hair and your self confidence with a great looking, full head of hair that is completely natural and undetectable.
Hair Replacement for Men – Boston North Shore
For men experiencing the effects of male pattern baldness and thinning hair, there are a number of ways to restore your hair and your smile. Many men, regardless of their hair loss type or if they are young or middle aged our non-surgical hair replacement is the solution that will give them back a full, thick, and healthy looking hair just like they had before they noticed their thinning hair.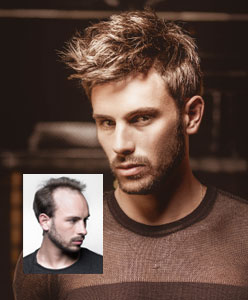 At our Boston North Shore hair replacement and wig studio, we offer the latest in individually customized, natural looking non-surgical hair replacement systems for men that are not only light weight but very comfortable and above all else natural in terms of appearance and to touch.
A custom men's hair replacement system from The Hair Studio and Wig Salon in Saugus, MA can be styled in nearly any hair style you wish. Whether it be a high fade or even a quiff or pompadour style. Nobody will have the slightest clue that you are wearing a custom hair replacement system that was made just for you. You can look younger and feel great about your self image and get excited again when you look in the mirror.
Natural Looking Men's Hair Replacement Solutions
To learn more about The Hair Studio and Wig Salon's non-surgical men's hair replacement systems, contact us today. We will schedule a private consultation for a free hair and scalp analysis and show you the best solution to give you the great looking hair you want and deserve.
Bring Back the Self-Confident You!
Contact us now to book you complimentary consultation.