Women's Hair Loss FAQ
Questions and answers about female hair loss and hair restoration – Boston North Shore Wig Experts
Female Hair Loss FAQ
Women's Hair Loss Causes. You wake up in the morning, sit up and look at your pillow. You see that during the night more hair has fallen out. You get yourself ready by brushing your hair and in the process you pull even more hair out. In an effort to hide your scalp that each day becomes more and more visible, you may try different hair styles; you spend more and more time each day teasing your hair, trying volumizing shampoos. When it comes to women's hair loss, it can be a frightening and when nothing seems to work. It can cause untold stress and can bring on depression, but you should know there are real solutions.
Here is a look at the many causes of hair loss:
Female Pattern Hair Loss (Androgenetic Alopecia)
The most common type of hair loss seen in women is androgenetic alopecia. It's also known as female pattern alopecia or baldness. What happen is the hair begins to thin predominantly over the top and sides of the head. It affects approximately one-third of all susceptible women, and is most commonly seen after menopause, although it may begin as early as puberty. Hair normally falls out at approximately 100-125 hairs per day. Fortunately, these hairs are replaced.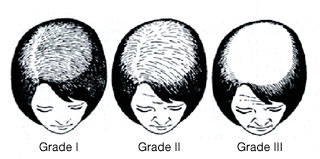 True hair loss occurs when lost hairs are not regrown or when the daily hair shed exceeds 125 hairs. Hair loss genetically, can come from either side of the parents family.
There are two distinct different types of hair loss, one being medically known as Anagen effluvium and Telogen effluvium. Anagen effluvium is often due to internally administered medications, such as chemotherapy, that poisons the growing hair follicle. The other is Telogen effluvium which is due to a large number of hair follicles entering the resting stage at the same time.
Dietary Considerations
Hair loss can also occur because of dieting. Franchised diet programs which are designed or administered under the direction of a physician with prescribed meals, dietary supplements and vitamins have become quite popular. Often the client is told that vitamins are a necessary part of the program to prevent hair loss that is associated with dieting. Many dermatologist, however, say that vitamins cannot prevent the hair loss that is associated with rapid, or significant weight loss. Many of these supplements are high in vitamin A which can actually magnify the hair loss.
Emotional and Physical Stress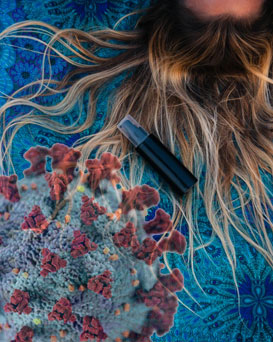 Severe illnesses (such as Covid-19), severe emotional stress, even surgeries can be triggers for hair loss. The body simply shuts down the production of hair during periods of stress since it is not necessary for survival and instead devotes its energies toward repairing vital body structures. In most cases, there is a three-month delay between the actual event and the onset of hair loss. It can be an additional three-month delay prior to the return of noticeable hair regrowth. This means that the total hair loss and hair regrowth cycle can be 6 months or longer when induced by physical or emotional stress. There are health conditions that can also go undetected that sometimes contribute to hair loss. This can include anemia or low blood count and thyroid abnormalities. Both of these conditions can be detected by a simple blood test.
Hormonal Issues
A common cause for female hair loss can be caused by hormonal changes. Many women don't realize that hair loss is not uncommon after pregnancy or following discontinuation of birth control pills. It's important to remember that hair loss can be delayed up to three months following any hormonal change and another three months will be required for new growth to be fully achieved.
Female Pattern Hair Loss Treatment Solutions
When it comes to women's hair loss causes, the question soon comes to "What can I do about it?" Over 60 percent of women will experience hair loss at some point. The causes are multiple and range from genetics, hormones (too much thyroid, not enough thyroid, low estrogen, high androgen), or trauma (an allergic reaction, high fever, stress). The most common, and chronic, cause is a genetic condition called androgenetic alopecia.
Medical Therapy: There are many proven topical hair loss control products available, including minoxidil (FDA approved for use by women) that have proven beneficial in controlling hair loss, especially when combined with low level laser light therapy.
Medical Wigs: Beautiful human hair wigs for women with alopecia areata, trichotillomania, and chemotherapy.
Laser Hair Rejuvenation: A non-surgical treatment utilizing therapeutic low level lasers to deliver light energy designed to treat thin, fine, damaged hair.
Non-Surgical Hair Replacement: Women's hair replacement systems have the ability to simulate a true natural appearance and feel while offering the client a significant increase in overall density.
Bring Back the Self-Confident You!
Contact us now to book you complimentary consultation.